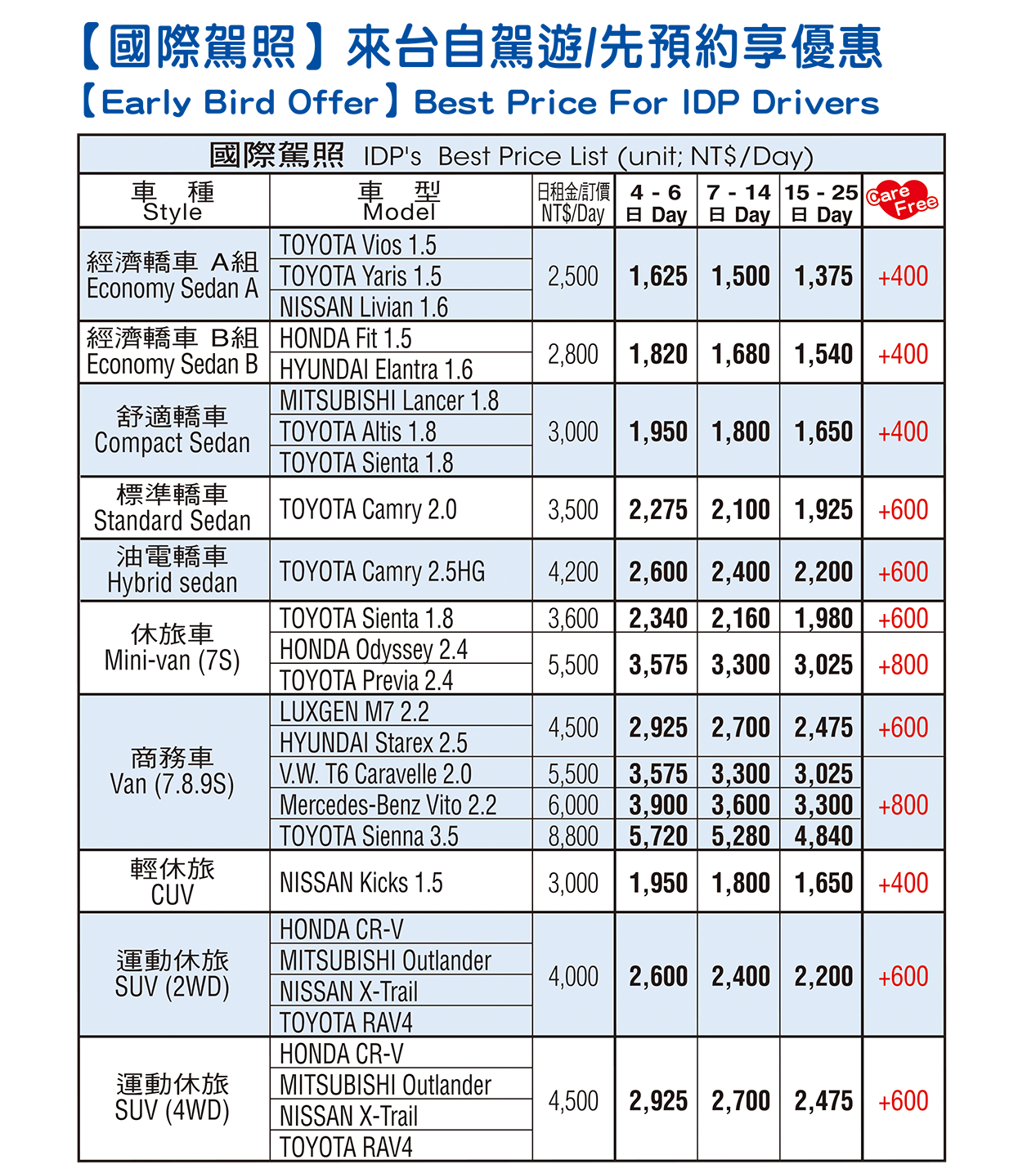 NOTE:
In order to qualify for discount, please provide valid passport and international driver's license.
Above discount does not apply during Chinese New Year holiday.If rental period is less than6 days including consecutive holidays(3days or above), the rental price will increase by 10% during the consecutive holidays.
For reservation, please contact local branch for further inquiry regarding vehicle types.
Explanation of Rental Rates​:
Insurance covers:(does not cover natural disasters)

Mandatory vehicle liability insurance:NT$ 2.0 million per person.
Third party liability insurance: NT$ 4.5 million (including property damageNT$ 0.5 million)
Passenger liability insurance: NT$ 2.0 million per person.
Vehicle Damage Insurance :Deductible up to NT$ 10,000,Total lost insurance:10% of the vehicle value.
Theft insurance : 10% of the vehicle value.

Please take care of the rental car and drive safely. In addition,find yourself a safe parking place. If rental car is damaged or stolen, renter will be responsible for the rental fee and operating loss during the duration of repair and maintenance of the car.
​

Care Free​:
We require advance reservation for this add-on program in person or on phone.
If you purchase this program, you will not be responsible for the vehicle damage deductible(maximum NT$ 10,000 on Article 4 ofRental Agreement) and operating loss (on Article 11 of Rental Agreement). This program does not cover drinking & driving,untold vehicle damage, settlethe claim on renter's decision, damage caused by weather, and car theft. 3. If there are multiple accidents occurred during rental period, this program only apply to the firstaccident during rental period.
For this add-on program,if you rent a vehicle for more than 15 days but less than 30 days, you willonly be charged for 15 day fees.
You could only purchase this program before your rental period starts. This program is only applied during the rental periodon the contract. You'll not receive a rufund for early return.